Datsun Roadster Parts from Rallye Enterprises, Ltd.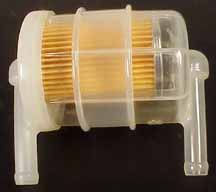 FUEL FILTER #164-01 all 69-70, AND 68s that don't have bowl filter.

The 69s and 70s all use the above filter, and most 68s.

How to tell on your 68 which type you should have?

(the one above or the bowl types 164-02)
On the right front edge of the inner fender just before it slopes down towards the grill you'll have a bracket hanging into the engine compartment. It will either be just a flat piece of metal with a hole in it (to hang the glass filter) or will have two lightweight curved pieces of metal that act as a spring clamp to hold the plastic type filter. All 63-67 1/2's have the removable bowl type filter, and some early 68's also.

The change to the all plastic filter happened with the 1600s at engine # R-59199, and on the 2000's at engine #02692. This corresponds approximately to SPL311- 18300 and SRL311-02300. They pulled engines from a big pile so it is not unusual to see two cars with VINS 1 digit apart have engine numbers that are hundreds of numbers apart.
---