SPL310 Carburetors from Rallye Enterprises, Ltd.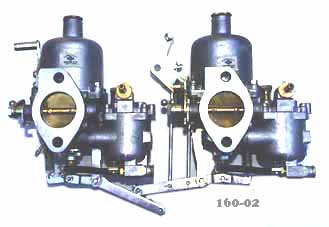 ---
DN16-17
DATSUN FAIRLADY SU CARBURETOR SET (SP310/SPL310 1500)
For all 1500's that have original dual carb manifold.Original equipment, complete new assemblies. After 40+ years of stocking thes we have finally sold them all. We DID however find a set we had in storage that is on the ODDS and ENDS page. It was missing a few minor parts that someone swiped probably decades ago. We had to locate some replacements. They are just some parts on the end of the throttle shaft and are not parts that wear out. We used what new parts we could acquire and found a couple of little used parts to complete the setup.

RELATED PIECES

Insulator Block #161-86 (2 req'd unless yours are OK) Those rubber ones are pretty durable.

160-C1 Carb Gasket Kit (Included with DN16-17)

Throttle Springs also included.
---
USING ON AN R 16 ENGINE

Can be installed on R16 when the 1500 insulator blocks and gaskets are used. (2 of #161-86 and 1 of #160-C1 gasket set) Using these on a 1600 also requires you use just one of your choke cables. You will need to carefully strip off some of the outer cable housing so the inner cable extends out much farther. Depending on how your manifold is configured you may also need to remove some studs and replace them with bolts to hold the 1500 insulators on. Same size carbs, just different design. They cannot be used on a 70 1600 and meet emission requirements as they have no provision for the intake manifold smog valve hoses.
---