Datsun 2000 Parts from Rallye Enterprises, Ltd.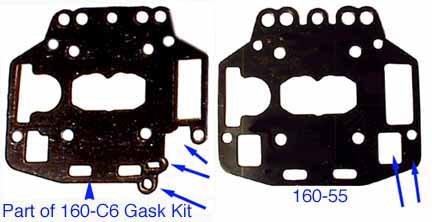 ...........
..

MIKUNI-SOLEX Float Gasket Info
The "new style" solex carbs, are those with one screw holding down the "Mikuni-Solex" nameplate above the float chamber cover. There are actually at least two different float cover gaskets. We have pretty much used whichever of these was available at the time. I don't think I've ever had both type carb body castings at the same time to really compare them. They are pictured above. The Type S4 gasket on the right #160-55 is available separately on the carb page (solex section) and in the minor gasket kit #160-C5. The Type S5 gasket on the left is currently only available in the gasket kits 160-C6 and 160-C7.

The arrows show the areas of difference.

..
---