Datsun SPL310 SOFTOP SUPPORT BRACKETS from Rallye Enterprises, Ltd.

1963-64 Datsun 1500 Fairlady Side Top Brackets #979-01U
Typical Condition C Shown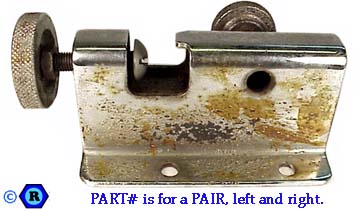 ...

These are mounted on each side of the car just behind the front seats. They hold the main softop frame support posts.

We put these in any of three conditions. (stock varies). We may at any one time only have one of the three conditions, so list alternative conditions if you will accept those. We don't always know what we have at a given time as these may be on cars 100 miles away from us.

The condition refers to the chrome. They are fortunately heavy steel so any of them could be successfully be refinished by a chrome shop.

Any of the brackets in any condition may have frozen knobs. Any of the knobs or their receiving nuts may need to be rethreaded.

Unless specified otherwise, all come with the big adjuster knob and the small clamping knob. If you have these already please advise, we may have some without these items at a lesser price.

Condition A
As nice as they get, extremely rare. Some may have nice chrome but have big scratches from the main top frame leg getting away from someone on the way down.

Condition B
Chrome just starting to peel or rust

Condition C
Rust and/or major chrome peeling, an example shown above.

...
---
| | | | |
| --- | --- | --- | --- |
| | | | |
| | | | |

Datsun Fairlady Softop Brackets from Rallye